Every so often (30 minutes or so), I get a loud rumbling in the loft, followed by a jet of hot water shooting out of an overflow pipe also located in the loft.
Looking in the loft, the rumbling is caused by boiling water going into the small tank, so much boiling water that it's the tank rocking around that's causing the noise.
After the water has gushed out, the ball valve drops and cold water fills the tank again. The water in this tank is very murky.
The hot water is also very very hot, despite having the thermostat on the boiler on it's lowest setting.
The boiler is an old Thorn M42/M44 floor standing thing.
When I bought the house 6 months ago the previous occupants informed me that the timer clock on the boiler had gone, so they fitted a plug in type one which has pins on to turn it off/on in 1/4 hour slots (it looks a bit like this one: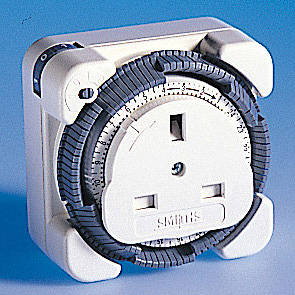 Anyway, the pump is also linked to this, so I can set the hot water/heating on and off with no problem.
Obviously I need to get a proper replacement for it - but the boiler looks so old, it may be better to replace it.
Also, the hot water tank in the airing cupboard looked very dodgy, with a big bit of solder on it which it was obviously covering up. I had this replaced with a new tank just after I moved in and long before teh gushing problem started - it's an indirect type if that's relevant.
The thermostat in the living room looks like it's seen better days and I'm not convinced it's working properly (if at all) as it doesn't seem to make any difference to the warmth in the house whatever setting I use.
The only real change I've done to the plumbing, as this was well before my current problem too, was to put a new bathroom suite in, only changing like for like - mixer shower head, two basin taps and a cold water pipe into the loo.
Other than the obvious "get someone in", is there anything I can do? Is it just a case of getting a new timer clock-thermostat unit and a new room thermostat or something more sinister?
If I've neglected to mention anything, let me know.
Thanks in advance.