Joined

27 Jan 2008
Messages

20,547
Reaction score

2,065
Location
Country
My hall cools too slow, so if the temperature turns down, rest of house gets cold, before hall gets cool. I fitted a Nest Gen 3 thinking at the time it would pair with my Energenie MiHome TRV heads, but it didn't work, so the heads just have same program as Nest, every other down stairs room either has a used door to outside, or alternative heating, hall did seem the best location and wires already there.
I note in USA Nest has released the Nest sensor
The Nest Temperature Sensor works with the following thermostats:

Nest Learning Thermostat, 3rd generation
Nest Thermostat E

For the following countries:

United States
Canada
Mexico
These would cure my problem, would be great if released in the UK, the Nest Gen 3 was selected as it allows both DHW and CH to be controlled with 2 wires. And I only have two wires boiler to thermostat, it leaves boiler brown, black, grey and earth and arrives in utility room as red, yellow, blue and earth and one core open circuit, then second twin and earth to hall, since no idea where colour changes, thought safer to use 12 volt DC of Nest Gen 3, not keen on using 230 volt when no idea of where the junction is.
I note one can get a cradle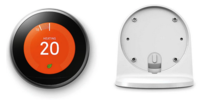 so I would assume with one of them I can move my thermostat into the room in use, but that it seems will leave a empty socket on the wall, and not sure how the thermostat will like being repeatedly unplugged and plugged in between the two receptacle, I could put power to the hall unit and fit a Nest Mini I suppose which would look OK?
But powering the thermostat with USB is not really that good of an idea, with it floating around in a room with two radiators two windows 90º apart, and a patio door, and an open fire, air flow is a bit random.
So considerations are:-
1) Wait and hope Nest release sensors for the UK.
2) Get a Nest stand even if it does look bad having an empty nest socket on the wall.
3) Fit a different system will need volt free contacts with N/O and N/C as fitted to a C plan system.
So Drayton Wiser is out as not volt free, as is Hive, so not sure what I could use?
System is oil fired, with two pumps and motorised valves so main house and flat under house are independent. At the moment missing one relay, so flat will not fire up boiler, the house needs to be running, on my to do list, but flat rarely used in Winter, it is more like a garden room for summer. However I do want it available for when friends visit.