Joined

27 Jan 2008
Messages

22,764
Reaction score

2,489
Location
Country
I know the problems are two fold, one can't find the by pass valve, and two hall cools to slowly. But can't do anything about that, so looking at another way to keep boiler running when living room is cold but hall has warmed up.
The simple answer seems to be second thermostat in living room in parallel with Nest Gen 3 in hall, I already have two wireless thermostats in the living room that I can read the temp of on my PC or phone,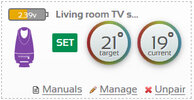 what I don't know is how to make them fire the boiler up. I think the Kasa one is most likely to be able to use, any idea? Other wise seems need a second wireless thermostat in living room, I know Nest do a cradle, which is USB powered, but that means it will stop working in a power cut.
Looking for ideas.