Joined

18 Sep 2013
Messages

20
Reaction score

0
Location
Country
Hi,
The venetian blinds in my mum's old home doesn't tilt open or close. The tilt control was possibly broken - but cannot find it anywhere.
The long straight rod in the blind is a weird shape - not square or horizontal. Almost like a 3-clover but not quite. Pics attached.
I've looked at tilt control on
amazon
and elsewhere and basically I can find square shaped and hexagonal shaped. What shape do I need to buy to fit this and how do I measure the size?
Thanks for any help anyone!
Pics of the long rod and part before the tilt control through which the rod passes is attached.
[url=https://postimg.cc/xq0C9Zqc]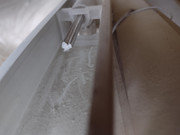 [/URL]
[url=https://postimg.cc/G9qptjsz]
[/URL]