Hello everyone,
We've been slowly redecorating our flat (converted Victorian property) that has suffered a lot of botch jobs under the previous owners. We have also had trouble getting informative advice from the builders/handymen whom we have talked to in person.
We have a room with a couple of cracks in the two walls that face to the outside. The roof had been leaking a little above the corner where they meet. It wasn't too bad apparently in terms of structural damage, but a very obvious damp patch had appeared on the ceiling and the adjacent wall. We had the roof fixed as soon as we could.
The wall adjacent to where the leak had been has a pretty long crack about a metre down from the damp patch where the plaster itself seems to have buckled up about an inch on each side. There are also a few other hairline cracks. We are going to get it skimmed by a guy who did a good job of skimming the ceiling in another room.
The other wall facing outside has one crack which is about a metre long and is not straight either. It appears that the previous owners tried to fill it with some substance (Polyfilla?) and didn't do a great job, as it actually protrudes out of the wall. I only have pictures of this crack - I am working away from home so I can't add a photo of the other wall with the buckling plaster.
We didn't think it is necessary to skim the entire wall to get it decent looking just because of this one crack. How would you deal with it? Do you think there might be a structural problem behind it? Our handyman basically said it is up to us if we want to skim it or not - very helpful
Clickable thumbnails: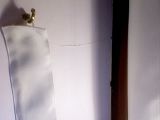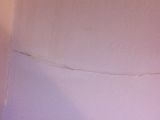 Thank you in advance for any advice you might have!