Yeah trying to get a stove installed in our living room.
Bought the stove but had a small mishap with scoring the marble mantel piece with a burr on the bottom of one of the legs. But i go that sorted.
So now it's on with the install as its September now and we want it in and tested before it gets cold.
Been trying to do quite a bit of reading to find out what exactly is required.
I think our install should be fairly straight forward. I have tested the chimney and draw with a smoke pellet and checked the loft for any leaks nothing. But our house was built in 1995 so the flue is concrete lined i'm led to believe, it looks it.
I have phoned the building control office and they want a form and £60.(been advised to put everything we want to do to the house,within reason on this form so we don't have to pay for another one in the future)
Some the good info i got so far i have collected here it is for anyone else that's in the situation as me:
Hi Guys,

With the current renewed popularity of wood/multifuel stoves I thought I would give an honest review of a budget stove I recently bought. I searched this forum and found very little in the way of reviews and honest opinions, so here gores.

Just to make it abundantly clear, I do not sell these stoves, and I have no affiliation with the manufacturers. I have no vested interest whatsoever.

I had always wanted to get rid of our open fire and install a much more efficient multi fuel stove. Unfortunately I was short of funds, so Esse , Morso and the like were out of my range. Inevitably I ended up on Ebay looking for a bargain. I did consider a second hand stove from a quality manufacturer, but was put off by some of the forums I visited. The primary reason being that they could have cracks in them that would only be evident when the stove reached full running temps. The last thing I wanted was to spend hours installing the stove only to find that the damn thing had a crack. So new was the only option.

I eventually plumped for a 'Firefox' 5 MF stove. Never heard of them ? Me either! Anyway, I bought it from the bay for the princely sum of £299 delivered! I won't give the name of the Ebayer, but it came next day! The first thing that shocked me was how bloody heavy it was, 85 Kilos to be precise. The body is one piece cast iron, something you normally only find on more expensive stoves, with twin air controls, one primary, one secondary/ airwash. It also came with comprehensive instructions (in English!), a heatproof mitten, mattblack handles in case you didn't like the chrome ones fitted and an ashpan / riddle tool. The stove didn't come with any flue (I'm not aware of any stoves that do!) , and the retailer stated it was a 6 inch flue, when actually it was 5 inches. Thankfully I noticed this prior to ordering the flue.

Due to a small opening in my chimney breast I could only accommodate a 5KW stove. It is worth noting that the quoted 5KW was achieved using anthracite on max settings. The room it was going in wasn't huge, but was extremely draughty. Original wooden floors and awful windows didn't help. Add to that the 3 foot thick walls (with no cavity) and the room was very nippy. It is also worth mentioning that the room had been warm with the open fire at full tilt and the one room rad on full. The room dimensions were 13x13 with an 8.5ft ceiling height.

After installing the stove, I was stunned at how quickly it heated up the room, and even more so as I turned that rad off. Within an hour using some pretty poor cool and wood the room was toasty. So much so that all air controls had to be shut down. It was immediately obvious how economical this thing was. It's a little Heath Robinson, but the only way I could measure the efficiency was to compare how many coal scuttles I used with the open fire compared to the stove. Typically I would use a full scuttle per night, i.e between the hours of 5pm and 11pm. I am using a little under half a scuttle now with the stove, and its warmer! The rad in the room is also now set to the off position permanently. The central heating had also been off for the previous 24 hours before I lit the stove, so no stored heat either! The air controls have a marked effect on the heat output and even on minimum setting offer a very comfortable output.

I live in North Wales, so it goes without saying its bloody cold, currently -4 outside. The stove has been running every night for the last two weeks, and its superb. The first two fires are to be run at minimal temps to ease the stove in.

In conclusion the stove offers superb output at a fraction of the previous open fire cost and is of excellent quality.

Negatives? The only two negatives are that the company I bought it from stated a 6 inch flue when it is actually a 5 inch, and the pin on the riddle tool broke, which required a cut down 2 inch bolt as a replacement. Other than that I cannot fault it!

Bring on another winter.

EDIT: I still haven't run the stove on anthracite, but nevertheless the fire will stay in overnight. Nice to come down to in the morning
http://www.fluestore.com/

Try them mate. They were £10 a metre cheaper than pretty much anywhere else I could find,including ebay!
From what I have read you have it back to front Bathjobby. Stoves send 80 % of the heat out into the room, whereas open fires send 80% up the chimney. Its the cooler chimney which causes tar build ups apparently. These tar build ups are more likely to appear with a stove/no liner setup.
On saying all of that there are people all over the net (and some on this site) that have used a stove without a liner for donkeys years!
CO KILLS carbon monoxide is the silent killer
i would recomend you use a liner!
if not

Why not get advice first from the shop where you buy the stove or a registered HETAS installer.

As for size of your opening hope this helps
1) Register plate must be 1.5mm steel and needs to be sealed so that it is airtight so no smoke can come back into the room

2) you must have a gap of 150mm each side of stove to non combustable sides

3) You must have 230mm above the stove to non combustable (460 above the stove for combustable i.e. wood)

4) You must position stove 50mm from back wall

5) your hearth must extend at least 225mm in front of stove

6) if your stove has a grater output than 5kw you must have air ventilation in the room venting out to external source

Hope this helps a little but its your safety

regards jay
Does your liner definitely need insulation? My chimney is not on an outside wall so I didn't bother, I might be shot for saying this but I don't think it's strictly necessary.

I won't shoot you but you should still insulate the liner even if the flue is internal, especially if it's two stories high. The insulation aids rapid warm up & helps maintain a higher flue temperature which gives a better draught & reduces acidic condensation forming in the top section of the liner which will eventually dissolve it!
We have a fireplace opening that's only 62cm high. The top of the opening is formed by a massive concrete lintel, into which is set a socketed clay flue that runs up the chimney.

The flue has been swept and certificated by a local sweep. We've spoken to a few local HETAS registered wood burner suppliers/installers, all but one of whom wanted to line the flue (although the sweep said it wasn't necessary), and also to knock out the concrete to enlarge the opening upwards.

The remaining company is pretty reputable and they're insisting they can fit a stove in the existing opening and without lining the flue, which of course makes it all much less expensive.

However, the stoves we're talking about (there are two options) are either 58cm or 55cm tall. They'll be standing on a 2cm slate hearth. That means there would be only 2cm, or 7cm, between the top of the stove and the top of the opening. To me, that isn't enough - surely the heat wouldn't be able to escape properly? And what about access for maintenance or cleaning?

The company have been to do a survey and are insisting they want to go ahead and "try" the installation tomorrow, although we have raised our concerns. Not sure what to do at this point, as even if they manage to fit it in, surely there'll be problems down the line? How much space should there be above one of these things?
http://www.gumtree.com/p/for-sale/s...mney-twin-wall-and-ve-also-in-stock/109733958
stovesonline.com
http://www.planningportal.gov.uk/uploads/br/AD_J_wm.pdf
http://www.fluesystems.com/liners/info/chimney_liner_installation.htm
Now as far i reckon i may need :
Lining(costs a lot but its's cement lined and only needs swept every so often so maybe not)
fireboard (but the stove is close to bricks)
register plate with fire rope and fire cement.
suitable hearth
chimney cowl
---------------
Now the decision i have to make should i put the stove inside and will it be ok:
Fireplace measures: 58cm wide and 40cm deep
Stove measures: 39cm wide and 28cm deep
or can i keep where it is and use the back of the stove with a 90 degree pipe connector for the flue....
anyway here are some pics of the situation so far: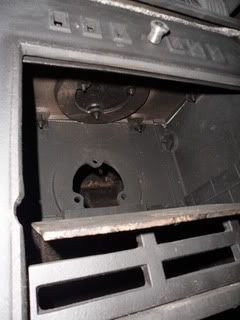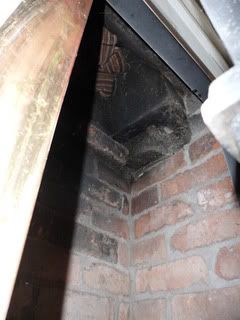 That's a brown stripey cushion blocking the draft
any advice/confirmation on how to proceed would be handy...
thanks