Hi all,
This is my first post, so firstly a hello to everyone here.
My bathroom basin mixer tap leaks, I've tried fitting a thicker washer to the jumper valve end where it meets the seat but this only fixes it temporarily. I don't think that replacing the jumper valve wouldn't solve the clearance problem, and the tap's too old for spares anyway although it's still a good unit and matches everything else.
I grinded the seat, which is brass (so they corrode, then after several grinds wear out and you have to buy a new tap - yes?) and didn't go mad but clearly this has been done before as the washer cannot be pushed far enough to create a good seal. The new washer seems to compress a little and then it leaks again. I can feel the end of the thread has been reached rather than the washer being squashed to its limit.
I read in the reader's digest diy manual there is such a thing as a tap washer and seating set, which comprises a replacement washer and an insert to sit into the valve seat, thus lessening the clearance allowing a good seal. I have included the section in the (compressed) picture below: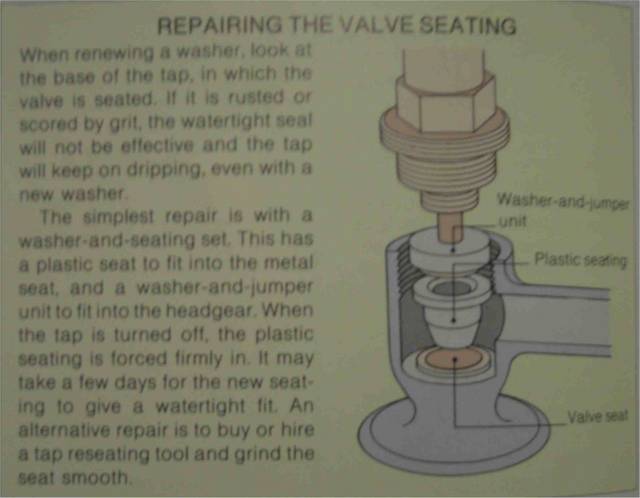 Anyone know if these valve seat repair kits exist, and where I can buy them?
Thanks.