As you can see, I think it is beyond repairing so I'm trying to come up with a replacement such as webbing or plastic boarding etc.
I got this from Argos a few years ago. It was cheap yet the design itself especially the reclining option is fantastic. It would seem to cost nearly £1000 to get something the same.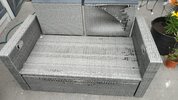 Unfortunately they used the crappiest rattan possible so in no time the odd thread started to break or snap until the whole contraption is now heading that way. It's just a real shame because you can't find the reclining feature at that price anymore which is why I want to try to salvage it before taking it to the scrap heap and buying a plain one without the feature.
I had already put some uPVC trim at the back where it first started to break up.
I thought about putting stiff boards to support the body by clipping them to the frame and using some flexible material to cover it. This wouldn't really be an issue if it was indoor furniture but it needs to withstand the elements. The cushions that attach to the sofa are stored in the container below which also has its own cushion. Very compact and bijou!
Thanks very much and hope you can help.