if you feel brave (you might get a leak or burst) you can briefly connect the incoming mains supply to the vent pipe, and see if it blows the blockage out. Often, however, it will be a very hard combination of limescale and magnetite, that will not shift. I have never worked on plumbing in a soft water area.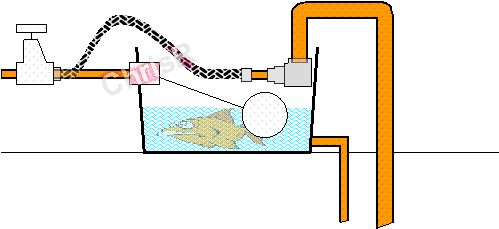 see FAQ 12
//www.diynot.com/forums/plumbing/boiler-central-heating-faqs.175736/
but there will probably not be a carp in your F&E tank.
It is almost certain to be where the 15mm pipe from the F&E tank joins the larger circulating pipes, often in the airing cupboard. If you hold a magnet against the copper pipes, it will be attracted to the spot where the mass of magnetite has collected.
Bale all the mud out of the F&E tank first, and tie up the ball cock float. This will reduce the amount of dirty water that comes down when you cut the pipe.
You will not be able to solder the wet pipes, so use compression joints to re-make the section you cut out. These will also make it much easier if it ever happens again. Use cleaning chemicals afterwards.