Joined

26 May 2008
Messages

16
Reaction score

0
Location
Country
firstly hi and thanks in advance if you help with my questions
me and a friend are going to be putting a pitch roof up where i currently have a flat roof we are both joiners albeit bench hand for me (a long time ago lol ) but my friend is an all rounder and i definately would not try doing this job if i wasnt sure we could do it, anyway bit of info to give you an idea first.
the roof that is over single story stretches 12 feet from the main house but there is only roughly 30" from bottom of bedroom windows to the flat roof i.e not much pitch.
we plan on pitching the new roof, ply boarding ontop of the rafters, then vertical laths. felt across with half width overlap, then horizontal laths and finally tiles.
(we are taking the tiled roof off in the pics to raise the brick coarse to match the same height and having a uniform degree of pitch on the whole lot, with a valley from the corner)
ok heres some questions if anybody could help me with please
1. what size rafters should we use to span 12ft with no support ? my friend thinks smaller than me but i want a rock solid job, is 7" x 2" at 500mm centres ok ???
2. again i know its not really needed but i only want to do this job once, so, can anybody recomend a type of waterproof paint/bitchumen that i can roller on the boards/horizontal laths to toatally waterproof them 'just incase any water should get through' ? this wont make the board sweat will it ?
3. what width lead do people recomend for the flashing to the main house where the roof butts up ?
4. would/could one of those 'light tunnels' be fitted ok to this type of roof, and would it be liable to leak ?
5. even tho we are boarding and double felting the pitch is going to be real low so what tiles can people recomend ?
6 would people recomend a ventilation brick (or similar) in the end wall to allow air movement under the new pitch ?
7. we will need to fit a lintel to a wide door/window (see pic, above the rotten wooden door ) which wont have any brickwork ontop (to keep it in line with the walls height wise) my friend says a concrete one ? would it make fitting the wall plate awkward ? or would we be better off bolting some 7"x2" wood together for the lintel ? wood will make fitting a new door/window below easier to fix aswell ?
8. what decent felt can people recomend ?
i will probably add a couple more questions as i remember them lol anyway heres some pics, its not a very straight forward job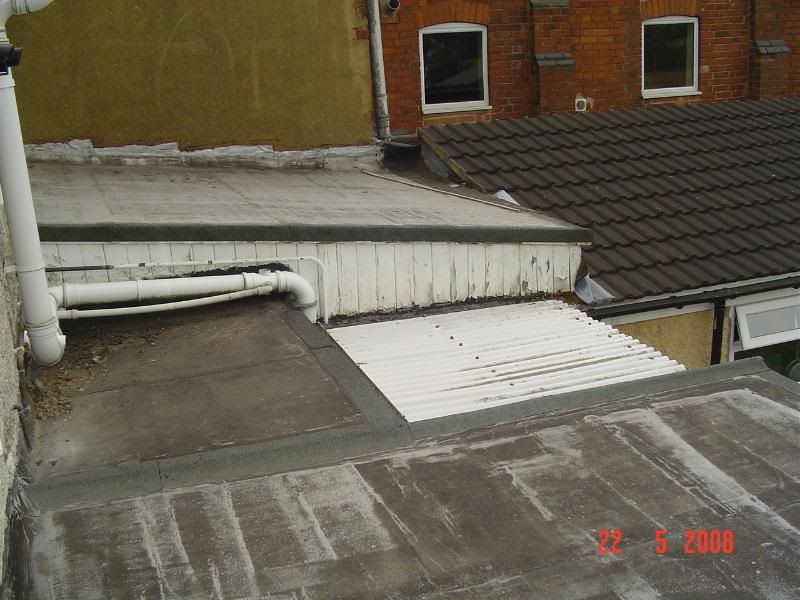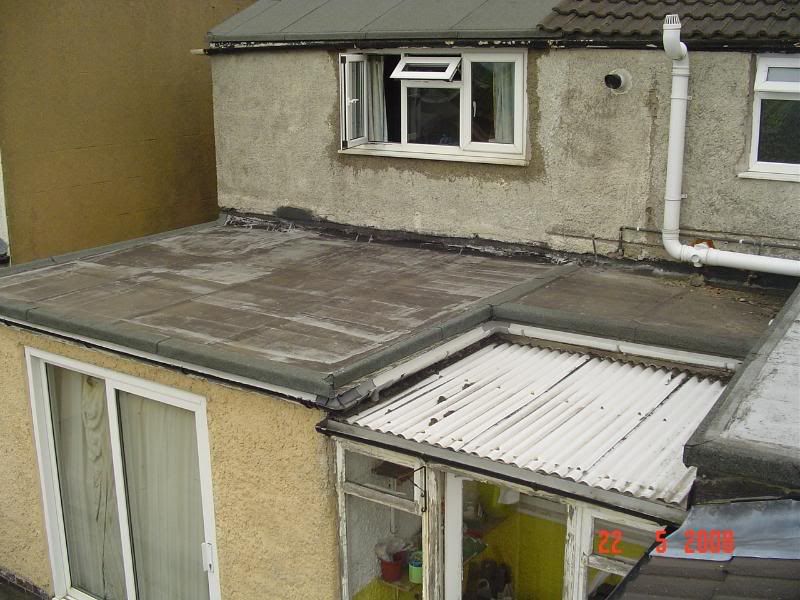 p.s first job is to finish off the bodge job main roof (like that before we brought house)