Joined

27 Jan 2008
Messages

20,241
Reaction score

2,008
Location
Country
I have made a mistake, intention was to have outer lights on wall switch and inner light on phone control,

son fitted for me, and reverse is the case, outer lights on phone control only, inner lights on main light switch and phone, so want to get a remote to switch outer lights on which I can wall mount down stairs at base of stairs.
We have a Lidi one, which would do,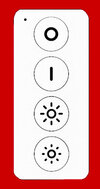 it has buttons to dim lights which I don't really want, and it came as part of a light bar, the whole lot was less than £20, and it had 3 GU10 smart bulbs as well, but most the remote controls seem to go OTT,

I only want on/off, that's all I can do with the relay installed,

so no point having buttons to change colours or dim, just want a handy remote fixed to wall so if not got phone to hand can switch on main lights. If I can't find one then will have to wait until Lidi do the light bar again, but I live in Hope.