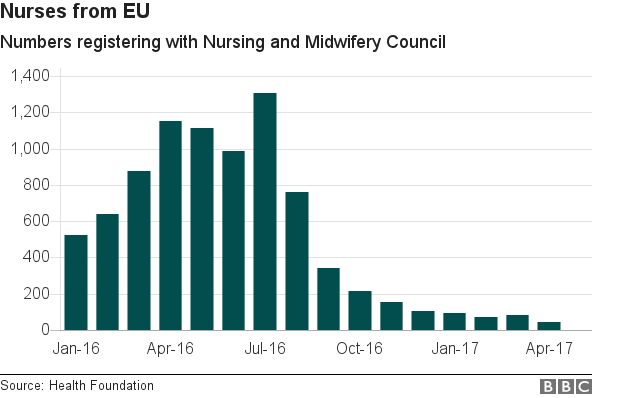 "Anita Charlesworth, director of research and economics at the Health Foundation, said the drop since the Brexit vote could not be more "stark".

"Without EU nurses, it will be even harder for the NHS and other employers to find the staff they need to provide safe patient care."

http://www.bbc.co.uk/news/health-40248366

"Shadow health secretary Jonathan Ashworth said: "Theresa May's weak and unstable government has pushed NHS services to the brink, and it is patients who will pay the price.

"Our health service has always relied on the contribution of overseas workers, yet these staff are being forced out by this government's neglect and disregard.

"The Tories are overseeing an unforgivable drain of talent out of our country, because of their chaotic attitude to the Brexit negotiations."

Overall there are 650,000 nurses on the register. Just over 36,000 of these have been trained in the EU, 5.5% of the total. Another 67,000 come from outside the EU with the rest from the UK."
see also
http://www.dailymail.co.uk/news/art...00-NHS-services-Bath-North-East-Somerset.html
For tax purposes, Virgin Health is domiciled outside the UK.
For tax purposes, Richard Branson is domiciled in his private Caribbean Island.
"Branson has swapped the union flag for the ensign of the
British Virgin Islands
, where income is not taxed."
https://www.theguardian.com/business/2013/oct/13/richard-branson-tax-exile-virgin