Joined

28 Jan 2011
Messages

469
Reaction score

40
Location
Country
I am planning on building a 3 m x 4 m single skin garage, i.e. within permitted development.
The ground is think clay - and i'm trying to work out what type of foundation I should put in and what depth/thickness. Its a detached garage so i'm not really bothered about damp, but would like it to be relatively dry.
Option 1
Raft Foundation - i was think of digging a trench an appropriate width around the perimeter and then dig the middle out 250 mm. I was then going to spread 150 mm hardcore over the middle and fill the entire thing in a single pour of concrete. This is only a rough idea and don't know required depth and width etc. - was thinking something like this...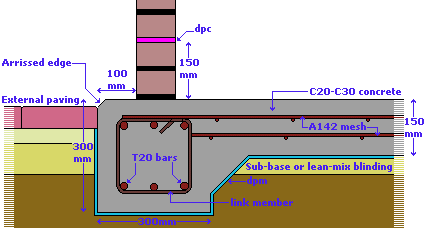 Option 2
Trench fill foundation
Dig trench - appropriate depth and fill to within 2 courses of ground level. come out of trench with foundation blocks.
Im confused - whats easiest? Given that I have a drive way that i need the finished floor to finish level with.
Basically, whats the most straight forward way to establish foundations that are easy to build off.
I was considering a raft as its 2 birds with 1 stone and negates the need to lay the first course in a trench, even if its only a very shallow depth, i.e. from the top of the concrete