Joined

20 May 2015
Messages

618
Reaction score

36
Location
Country
There's a leak from the kitchen tap from the hot water side. Very subtle but there's a few drops on the sink over the course of the day. Being the clever clogs I am, I decided to have a go at it. Figured watching a couple of youtube videos would help. They're fine if things are straightforward but don't tell you what to do when you run into problems.
Turning off the supply and removing the taps themselves was easy. Then came the pain. First off, I tried using an adjustable miniwrench. Should have used a socket to remove the cartridge. Cold water cartridge wouldn't budge. Was going to give up but as I screwed the tap back on, it moved around. I rotated it round and ended up somehow removing the cartridge (with the tap still attached!). Unscrewed the tap and now have a cold ceramic cartridge.
Thought I'd attempt the hot water tap. Called on the powers of Greyskull and it budged. But then I removed not just the cartridge but the washer thing that attaches the cartridge to the tap, so now I'm left with this: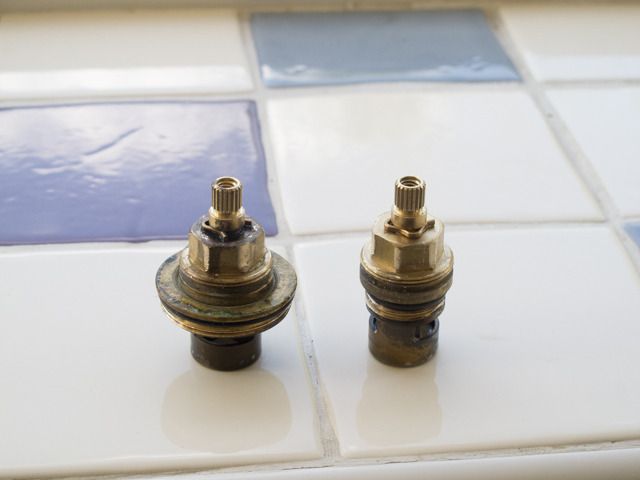 How do I get that ring thing off?