Please have a look at the photo. I need to install a security light or rather a light that comes on when my elderly parents either come down the garden path or go up the garden path from the porch behind the camera.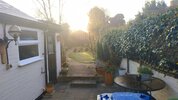 As you should be able to see, there is a large shed at the bottom and they come through a gate to the left of the shed. There is already a security light there that reliably comes on to light up the path to where you can see the birdfeeder station.
It is the steps, down and beyond that needs to be lit.
I'm trying to work out where to put the light or rather the sensor or sensors because there needs to be more than a reliable 180 degrees range. Does there need to be twin sensors and where would I position them and the light, if they have to be separate?
A link to a product or products that would do the job would be most helpful.
Thanks very much and hope you can help.